All our patients have fascinating stories. 
         Welcome to five of their lives.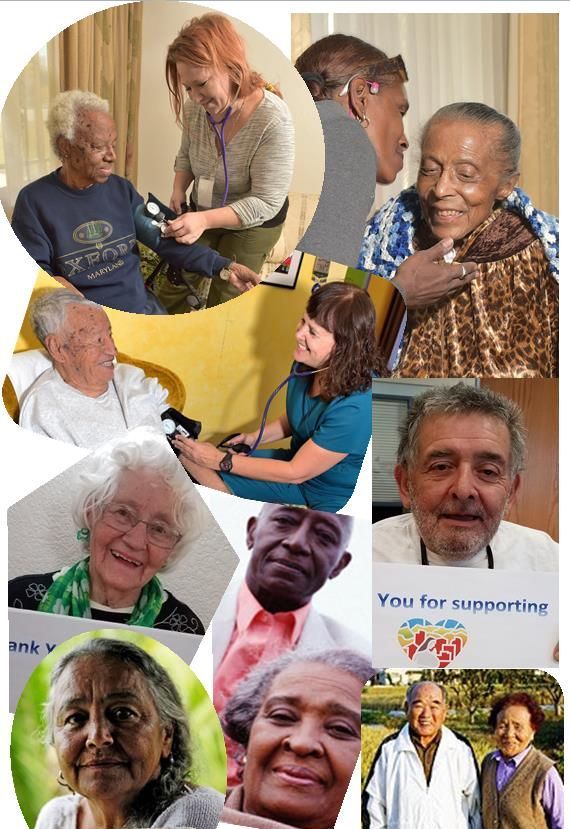 Lydia was forgetful, disorganized, noncompliant with medications and emotionally paralyzed.  The emotional paralysis developed when she was told she had breast cancer.  From that moment on, she wouldn't eat, was unable to take her medications or clean her house.  Life stopped.
She wondered, "How could this happen to me?  I have been such a good Christian mother all my life.  How can a mother raise five children, yet five children cannot help care for one mother?"  As is sometimes the case, children abandon their parent when their parent needs them the most.
Dominican Home Health Agency (DHHA) helped Lydia see the innate power and independence she possessed, even though she was sick.  DHHA intervened by providing a skilled nurse and housekeeper to assist her through the immediate process of healing.  Our nurse developed a relationship of trust with Lydia, helping her regain strength and confidence.  She helped Lydia recognize what she could control, while simultaneously providing support, words of encouragement and healthcare knowledge.  Lydia learned that emotional and psychological paralysis can result from depression, sadness and anger.  Step-by-step, they initiated a plan to manage medication, schedule doctor visits and attend to months of mail strewn on the floor.
Then, in February, Lydia suffered a seizure and stroke that resulted in right-sided paralysis.  To make matters worse, after being placed on seizure medication there was a mix-up in medicines, and she suffered another seizure.  Meanwhile, she had completed all radiation treatments but was still getting chemotherapy treatments, which often left her feeling weak and tired.  The good news was that her most recent x-ray from a month ago showed that the size of her tumor had become smaller.
Through DHHA's Durable Medical Equipment (DME) loan program, Lydia received a hand-held shower and shower chair so that she could bathe independently, without fear of being unable to get out of the tub.  DHHA cleaned her house, ensured she saw her doctor, monitored her vital signs, helped her take her medication routinely, and saw that she ate well.  This created a recipe for better health, more independence and knowledge that she is still the woman she always knew she was.
---
Henry is a very social person who lives alone.  While he does have family, like so many elderly, the family is not very involved with him.  Unfortunately, the diseases that he has on his back ― chronic dermatitis, hyper-pigmentation and hyper-keratosis ― require someone else to apply medication cream daily.  Without this medication, his skin cracks, becomes infected and is extremely itchy and painful.  Both a DHHA nurse and certified nursing assistant were assigned to help control his chronic back problems.  As a result, his pain has diminished considerably and his skin is smooth and without infection.  Henry is so appreciative.
However, as with many elderly, the aging process alone can stimulate other chronic diseases to appear:  Henry now has diabetes.  Fortunately, with the intervention of his DHHA nurse, he is very knowledgeable of diet and medication management of his disease.  This management has kept him out of the hospital and safely in his home, independent and well-functioning.
---
Violet  was caught in the web of choosing between her food and medicine.  In addition, she recently had to ask her two grandchildren to move out because they were stealing both her medications and her money, as well as hurting her physically (including breaking her thumb).  She still has days of remorse for this difficult decision, but knows that she must look after herself first to ensure her safety.
When we first met with Violet, she had been trying to sort her medications into an organizer but never got it right.  Often, for many elderly, this is attributed to poor eyesight, dementia, lack of focus or poor knowledge of their medications ― reasons why the elderly often end up in the hospital.  Additionally, the large medical service co-pays and the co-pays for a vast array of daily medications force the elderly, who are on fixed incomes, to choose between eating or taking their medicine.  These scenarios have devastating effects for each individual as well as our healthcare system.
DHHA's interventions included emotional, safety, and psychological support, as well as medical attention.  The turmoil for Violet is now over, and she is comfortable in her home.  She says, "Now I know I am not crazy ― the things that went missing in my house or checkbook were not my doing."  Violet is now compliant with her medications, has the money to pay for the co-pays and is safe and independent in her own home.  DHHA provided the nursing and housekeeping services for her, and she also participates in both the DHHA exercise program (which is strengthening her endurance, muscles and focus) and the Friendly Visitor program (where a trained volunteer calls her several times a week for a social visit).  Violet is a great example of our staff's motto ― "Together is better!"
---
Joseph is a 90+ year-old patient at one of our nine senior Wellness Clinics in Denver.  He presents as debilitated, always physically cold, with blood sugar and thyroid issues.  One of our Wellness Clinic nurses assisted Joseph by speaking with his M.D. to articulate Joseph's concerns and health data.  With the combination of that physician changing his medications and our nurse educating him about his health, Joseph is now medication compliant and no longer suffers from always being cold.  His blood sugars are approaching normal, and Joseph is first in line every week at the clinic!
---
Viola has a new lease on life.  Last year, she almost died three times, and now she is healthy, calm and at peace.  Each day she pinches herself just to make sure she is not dreaming.
Last year, Viola was a poor, frail senior struggling with massive health issues.  With congestive heart failure, fluid in the lungs, pulmonary hypertension and scleroderma, she couldn't even walk to the bathroom.  Her doctors and medications were changing so rapidly that she couldn't keep track. Desperate to find help for Viola, her caseworker connected her with Dominican Home Health Agency.  DHHA came to Viola's rescue -- just as it has for so many other unprotected older adults who do not qualify for benefits allowing them access to healthcare in their homes.  
Now, a DHHA R.N. visits Viola once a week to organize her medications in an easy-to-use pill box, educates her on how to manage her chronic conditions, and monitors her blood pressure and cardiac function.  In addition, a DHHA Certified Nurse Assistant assists Viola with bathing and personal care on a regular basis.  To further advance her quality of life, DHHA's Patient Advocate has connected Viola with other community services.  "I can't explain just how wonderful DHHA is," she says.  "They saved me."