In-Home Visits
Our team coordinates a variety of services to help patients meet their daily needs with hope and resolve.  To request services, please complete a referral form at the bottom of this page.

Services
Nurses (RNs) bring medical skill and compassion to the poor and vulnerable patients we help.  Our nurses go above and beyond just taking vital signs and checking medications – we provide in-depth, holistic care in the patient's home that encourages independence, improves health outcomes, and allows our patients to age with dignity.
Certified Nursing Assistants (CNAs) and Personal Care Providers (PCPs) deliver a wealth of personal care to the home-bound, sick and frail elderly, including bathing, help dressing, preparing meals, and laundering.  This personal care helps our patients remain safe and independent in their homes.
 
Additional Services Available for DHHA Patients 
Patient Health Advocates (PHAs) work directly with our patients, reducing the gaps in
their care.  We work with community agencies to connect patients with available resources.
Food for Patients is a DHHA program supported by generous donations from specific
organizations.  As a result, we are able to provide nutritious food for our patients during
in-home visits.
Friendly Visitor/Pastoral Care volunteers provide both spiritual and social visits in person
and/or by phone.  These optional visits improve our patients' health by reducing isolation and
feeding the soul and spirit.
 
Services Not Provided
Wound care

Blood draws

Physical or Occupational Therapy

Exercise programs

Respite Care

Run errands

Large-scale housekeeping

Friendly visits/Pastoral Care to the general public


 
Eligibility
To be eligible, clients must live within the boundaries indicated below.  You or a health care professional may contact Julian Eighmy at 720-770-8464 to discuss your specific situation in detail.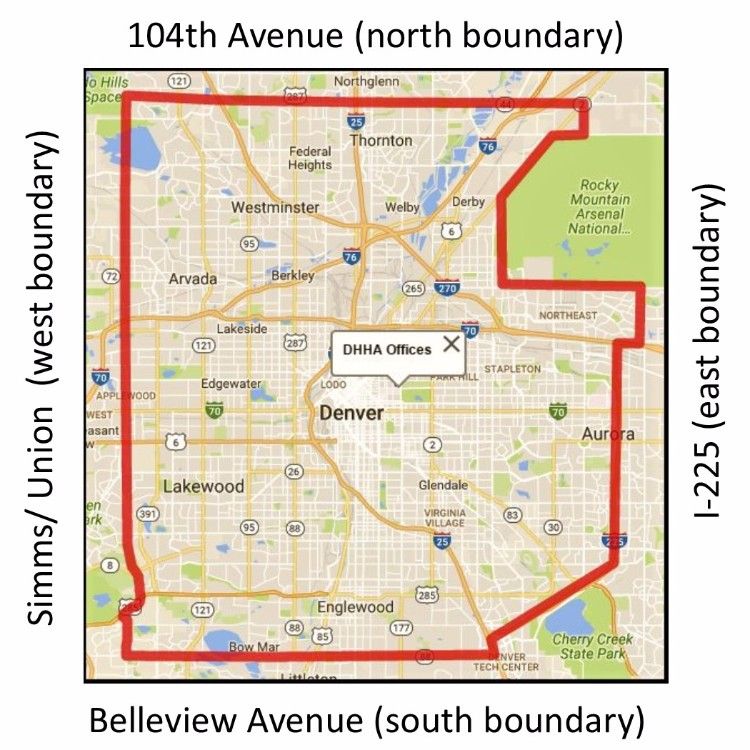 New Payment Models
Charity visits - with no charge to our patients

HCBS/Medicaid Waiver beneficiaries can now receive care from DHHA

Private pay on a sliding scale based on the patient's income
Make a Request for In-Home Care
For your convenience, you can complete this Request Form.
Due to COVID-19 crisis, we will conduct additional phone screening to evaluate the level of need before visiting any newly referred patients.  Please note, it may take longer than usual to process and contact referrals to schedule a start of care visit. You can call 720-770-8464 with any questions.
.
After filling out the form, please send an email or fax to confirm that your referral was received.
                            Email:  jeighmy@dominicanhha.org
                            Fax:  303-322-2702